The Pendrell Blouse
So, you know the whole "seam-rip" part oF the blog? Yeah, I definitely end up doing quite a bit of that. Tonight will be no exception! But let me start at the beginning...
Burda Pattern 8155
I have learned a lot of the sewing techniques from blogs etc. but I have to give huge credit to my Grandmother. My dad's mom was a seamstress by trade. She was the first person to introduce me to sewing. Very recently she has passed away and in honor of her and our mutual love of sewing, I decided to sew an outfit for my grandmother's funeral.
I found a burda skirt pattern for a high-waisted pencil skirt, and then I used
Tasia's Pendrell blouse pattern
for the top. Both have turned out fairly well, but true to my style, they have both been a learning experience.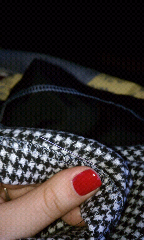 Catch-stitching the hem.
One of the largest learning experiences has been on hemming the skirt. I have really started to enjoy hand sewing. I first catch-stitched to fashion fabric to hem the skirt, and then I had plans to fell-stitch them lining to the hem. I measured, pinned, and began to fell-stitch the lining. I completely finished fell-stitching and was so proud of myself (because really, it was like 4-5 hours of hand stitching to both hem and fell-stitch)!! This morning when I put on the skirt for the first time, I noticed something that I hadn't seen when just holding up the skirt... the lining definitely wasn't properly lined up, and the skirt bottom is bubbling. This was
definitely
not the look I was going for.
After thinking about it for a minute, I realized that I really probably shouldn't have stitched the lining the the skirt across the whole bottom. The skirt has a split up the very back center seam, and I think stitching the lining to the skirt at the slit is a good idea, but I think the bottom should just be free to hang as needed. Yeah... oops. So, I will probably be doing some seam ripping tonight!
Yup, sew... seam-rip... and repeat!